Welcome to the Annoying Villagers Wiki, dedicated to MrFudgeMonkeyz's original Minecraft animation series of the same name, Annoying Villagers. Here, you can find all the information you need about Annoying Villagers. Go ahead and take a look around! You can see the characters and more information about the series. Learn about different groups and factions, learn about the Timeline and check out all of the newest episodes.
Need anything please see Wookieaaaa
Featured Article: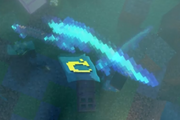 The Legendary Sword is a powerful sword only wielded by True Warriors of peace such as Steve, Chris, and Greg. It was given to them by Notch, it can block all potion effects, even the Drowned Zombie Gods' electricity. Steve was told to only use this item for emergencies or to end a battle quickly.
Featured Article:
Boop is a Villager and one of the main protagonists in the series, meeting a variety of characters along the way. Boop unknowingly changes from a mere villager to a major threat to Herobrine, the main antagonist. Boop wears a purple robe. Like his friend Green, Boop has green eyes. Boop has a wacky and stupid personality, pretty much like Green. He has a kind heart, however, and is very willing to help. He enjoys dancing and likes pink wool. Boop, along with his friends, Green and the white-robed villager, had a dance fight with zombies. Their dance fight, however, was interrupted...
Annoying Villagers is a comedy-action based YouTube animation series, primarily focused on the Villager mob depicted in the bestselling sandbox game Minecraft. The series was created by animator MrFudgeMonkeyz, as Annoying as his main work. It currently has 40 episodes. The first episode was released on January 29, 2013, and follow-up episodes 2 and 3 were released by early 2014. However, the first proper episode for the plot was episode 4, which picked up indirectly from the previous episode. it aired in May 2015. Currently, the show has been running for 6 years.
More:
https://mobile.twitter.com/mrfudgemonkeyz?lang=en
MrFudgeMonkeyz Merchandise
https://teespring.com/stores/mrfudgemonkeyz
Featured Article: The Annoying Villagers Fan theories
Community content is available under
CC-BY-SA
unless otherwise noted.